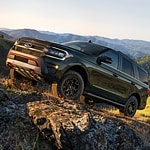 The 2023 Ford Expedition is packed with useful features that make this vehicle both more convenient and more enjoyable to drive. At Anderson & Koch Ford Inc., we're committed to helping shoppers in North Branch make informed purchasing decisions. That's why we're so excited to showcase two utility features that make this powerful SUV a truly standout choice.
The Dynamic Digital Instrument Panel
Available in the 2023 Ford Expedition as a 12.4" multi-color productivity screen, this feature presents customizable vehicle and driving information in real time.