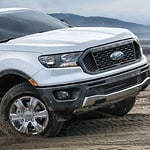 With so many different models of trucks on the road today, it can be difficult to know which one is best for you. As you conduct your search, you might want to begin with the Ford Ranger. This is a mid-size truck that continues to be popular because it can do so much. Beyond that, it is built to be tough and rugged.
You will notice this with the independent front suspension. You can go over virtually any type of rough terrain and remain comfortable inside the cab. The shock absorbers are pressurized with nitrogen gas to make this happen for you.
Don't let the mid-size nature of the Ford Ranger fool you. It is still tough enough to tow as much as 7,500 of your cargo or recreational equipment behind you. This makes for a great weekend adventure in the planning. You can test drive the Ranger today when you visit Anderson & Koch Ford Inc.