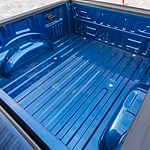 The FX4 Off-Road package has excited a lot of truck owners who have decided to snap up a Ford F-150 Tough for themselves. They love this feature because it means that they can finally get out and explore the countryside like never before.
Ford wanted to produce something special with the F-150 Tough, and they certainly did that. Not only does it go off-road easily, but it also has a 360-degree camera with a split view display that is great for getting the truck into tight spaces. It is a beast, but you can keep it protected by knowing where it is in relation to other vehicles at all times.
Enjoy the grace and strength that are all a part of the package here. You don't usually see both elements combined, but Ford has made it happen for this very special and unique vehicle. They left nothing to chance, and Ford owners love it.