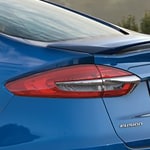 You may not think about performance when it comes to affordable mid-size sedans. However, the popular Ford Fusion has been designed to be an exceptional driver's car. Here are some top performance features that make the Fusion a standout.
The Fusion is one of the few affordable sedans that offers an available Intelligent All-Wheel-Drive system. This system will shut itself off when it is not needed. This allows you to reduce drag and enjoy better performance and fuel efficiency on smooth roads. To give you better feedback at higher speeds, the Fusion also offers Electronic Power-Assist Steering. This system gives you excellent response while also reducing vibration on the steering wheel.
Get a firsthand look at why the Ford Fusion is a performance lead. Visit us today at Anderson & Koch Ford Inc. and take a test drive of the Fusion. We're ready to save you money on the new Ford Fusion of your choice.