Annual Calendar of Events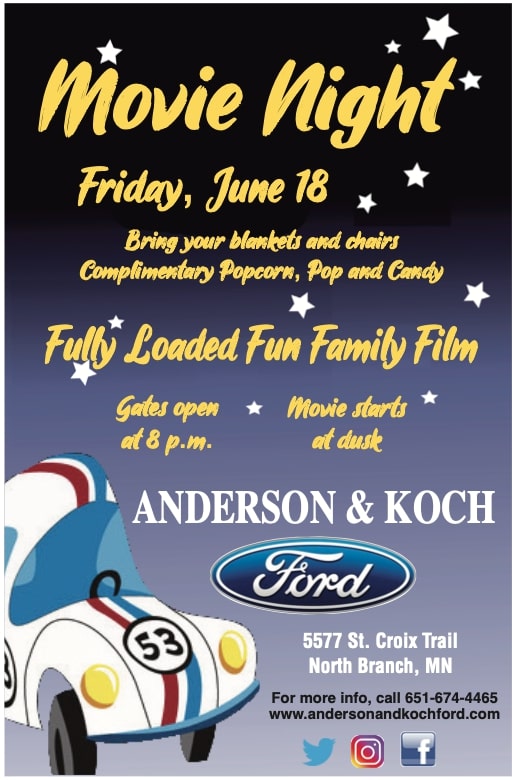 Saturday, May 8th, 2021
10AM-2PM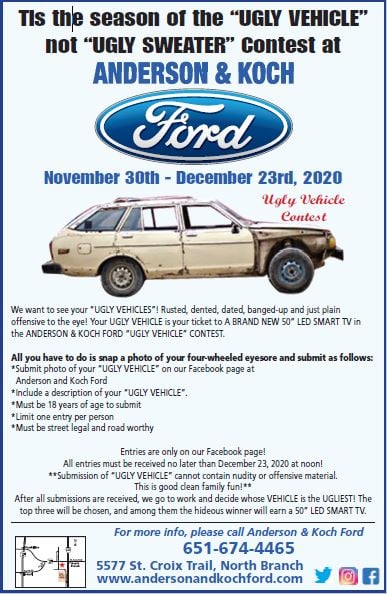 Entire Month of November 2020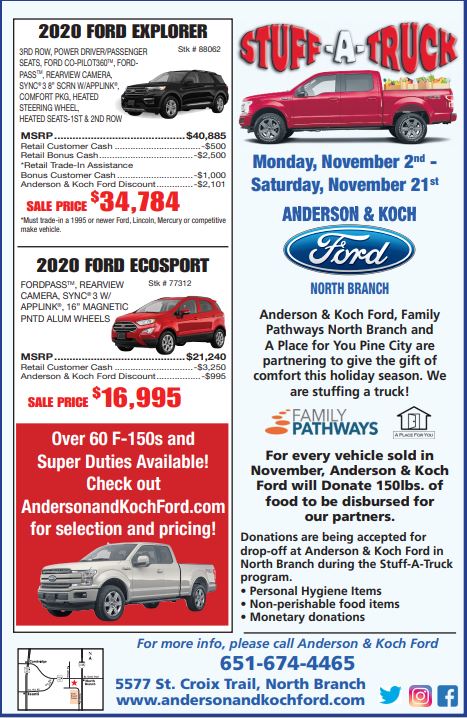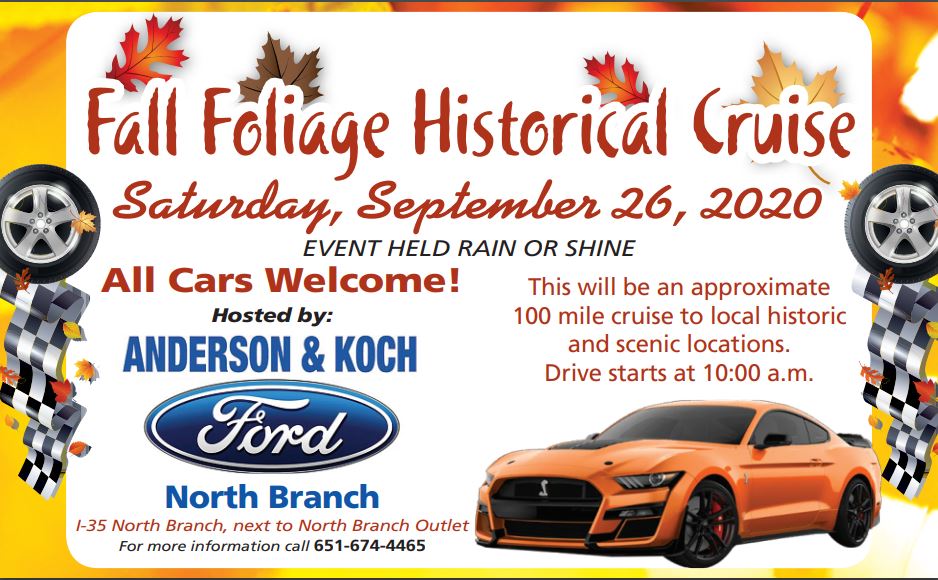 For the past many years we have hosted the Fall Harvest Festival Car Show the last weekend in September. The Car Show was part of the Fall Harvest Festival that was put on by the North Branch Area Chamber of Commerce. This year the Fall Harvest Festival had to be canceled. We felt that changing up our event would help to show the people that came to our area some of the great things that North Branch and the surrounding communities have to offer!
The first 30 miles or so we will drive through a few towns and past some historic sites. The remaining 80-90 miles will be quite a bit more open and allow everyone to open up the throttles blades a bit. All cars are welcome! 
SYNC My Ride!




SYNC Personalization Sessions

It is hard to keep up with all the new technology on vehicles today. So Anderson and Koch Ford wants to make sure that you understand the system that is in your new vehicle. With personalized group and one-on-one sessions available, you can get comfortable with the latest technology. Our SYNC specialists are available to answer any questions you have about your system and make sure you are getting the most out of the features. The sessions are designed to answer any questions that you have about the SYNC system in your particular vehicle. After you purchase your new vehicle we encourage you to play with the system for a week or two and then contact us to RSVP for a upcoming session. Some of the topics that may be covered may include:
*Connecting your phone so it capable of making and receiving calls
*Updating your address book from your phone to make it easier to use SYNC voice commands
*Setting favorite radio, media and display preferences
*Getting setup with SYNC services
*Connecting your phone so you can stream audio via your Bluetooth connection
All SYNC sessions begin at 5:00 P.M. on the below listed dates. Please call in advance and let us know that you are going to be attending and remember your cell phones are needed so don't forget them!
Dates will be posted when we can safely resume!
ALMELUND THRESHING SHOW 2019
AUGUST 9th, 10th, 11th, 2019
https://www.almelundthreshingco.org/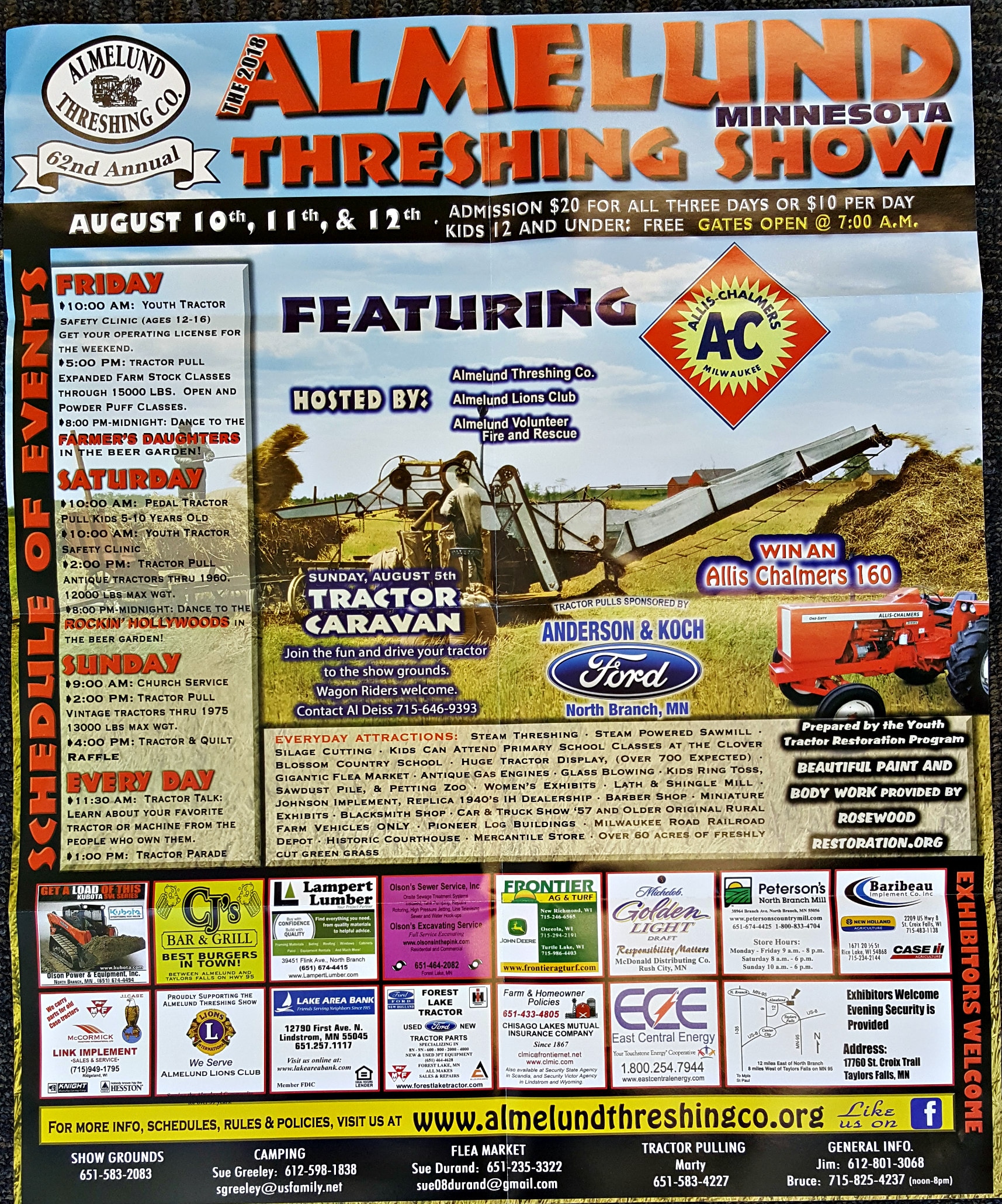 2019 17th Annual Car Show!
Saturday September 28th, 2019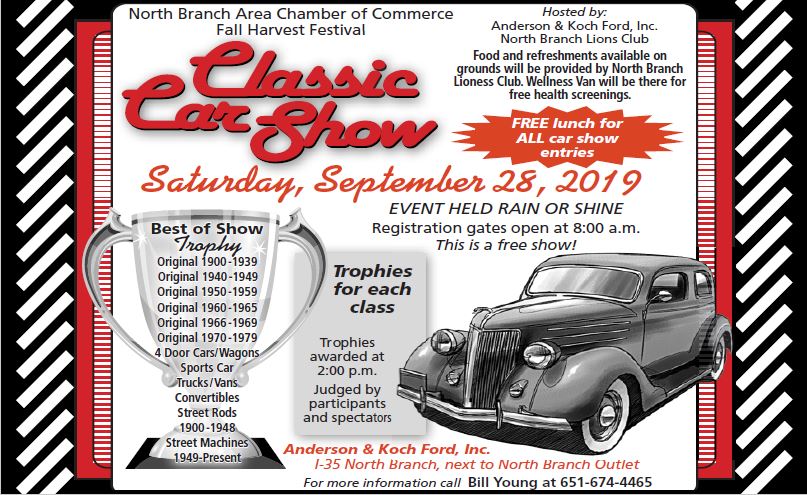 Show begins at 8:00 A.M. with awards at 2:00 P.M.
This is fun for the whole family! Our annual car show has become much larger than the first one we held back in 2002. With over 170 registered vehicles last year, there is definitely something for everyone to see. We provide lunch to all registered vehicles and one passenger. The lunch will be served again this year by the North Branch Lioness Club and is a meal not to be missed. We would love to achieve a goal of 200 registered vehicles.  The event is held rain or shine. If you have interest please call for more information.